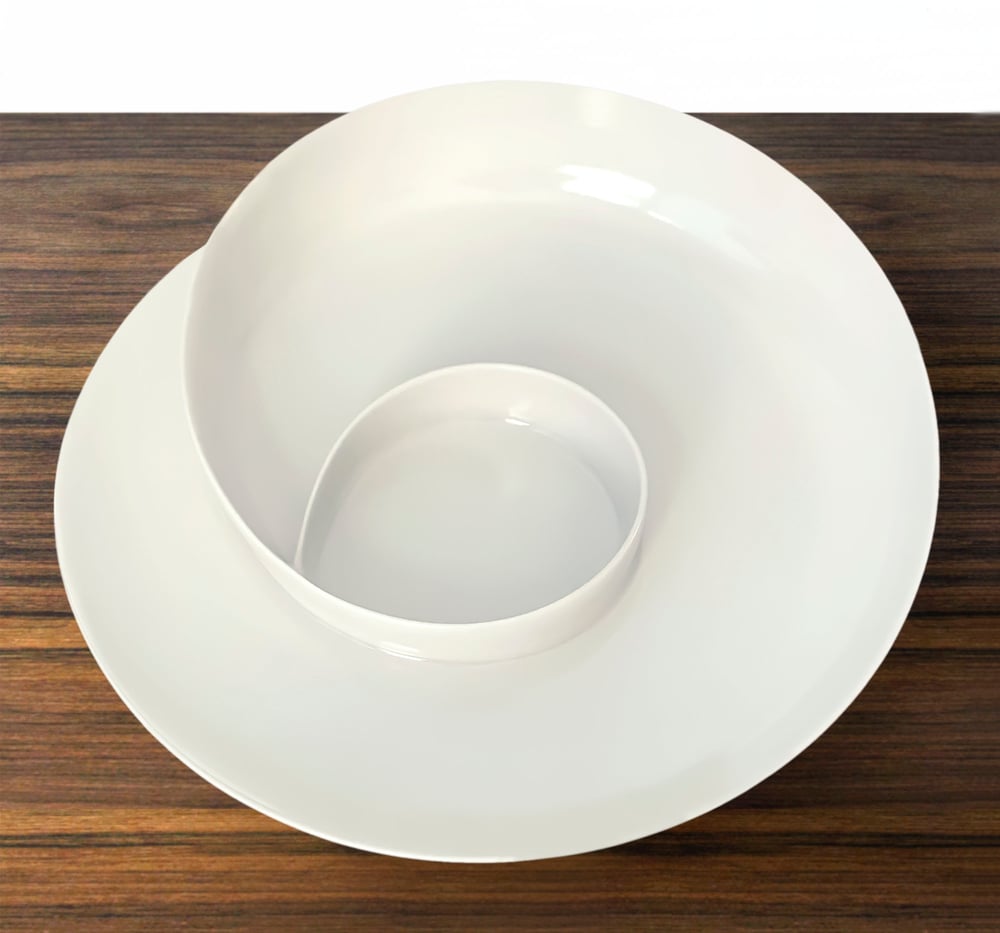 Whirl Serving Dish
$

325.00
---
---
Handmade sculptural ceramic serving platter with a glossy clear finish over warm white porcelain. The raised perimeter spirals along the top of the plate, ending in a sealed cup in the center. The spiral and the cup are fused seamlessly to the top of the plate so the cup can hold dressing, dip or oil without leaking.
Load up the perimeter with your favorite bread, chips and veggies, then fill the cup in the center with dip, salsa, dressing or olive oil. Unique, elegant AND completely functional! Use it, then display it as an art piece.
• Measures approximately 11" in diameter x 2 1/4" high at the highest point.
• The cup in the center is completely sealed and holds about 1/2 cup.
• Finished with a glossy clear glaze which allows the warm white color and natural characteristics of the porcelain to show.
• Food safe, made from lead-free materials.
• The Whirl pictured is the Whirl you will receive.
This unique piece is part of a collection I designed called Whirls. It's made from porcelain clay and was hand-thrown on the pottery wheel, then hand sculpted into this new shape. I make each one myself, completely by hand, from start to finish. It was fired twice in my kiln, making it durable and food-safe with a permanent finish. Please note that colors may vary slightly.
The Whirl Serving Dish which was recognized as one of the "top 500 ceramic works of the decade" and featured in "The Best of 500 Ceramics: Celebrating a Decade in Clay", published by Lark books.